Benton's Hartman wins Phoenix Bass Fishing League event on Kentucky-Barkley Lakes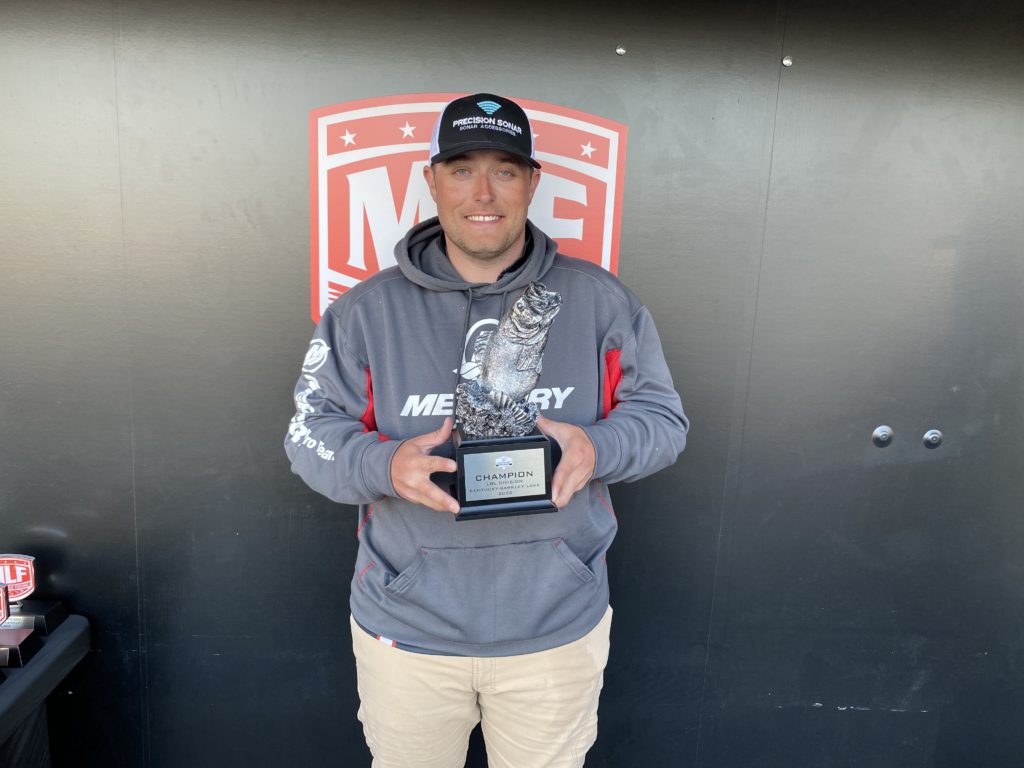 GILBERTSVILLE, Ky. (March 7, 2022) – Boater Jordan Hartman from Benton, Kentuckycaught five bass on Saturday weighing 19 pounds, 11 ounces, to win the MLF Phoenix Bass Fishing League Presented by TH Marine on Lake Kentucky-Barkley. The tournament, hosted by the Kentucky Lake Convention and Visitors Bureau, was the season opener for the LBL division of the Bass Fishing League. Hartman earned $5,839 for her victory.
"I knew it was going to be windy, so I wanted to try and hit some of my best stuff as early as possible to catch what I could before the wind picked up," Hartman said. "I ran to the Paris Landing area and fished the main lake there."
Hartman said he had a 12-pound limit on smallmouth after spending 20 minutes at his first stop. Hartman said the little mouth fell in love with a String King Pro Model 5XD crank. Hartman spent the rest of the day moving around and shooting fish.
"Every place I stopped it didn't seem to go wrong," Hartman said. "I just kept eliminating. I probably caught 25 keepers.
"This win has been my goal since leaving Illinois to go to Murray State University," added Hartman. "I started fishing these tournaments three or four years ago. It's very hard to win when fishing against all the locals, so that's pretty special to me. All the time you spend on the water is worth it.
The top 10 boaters finished the tournament in:
1st: Jordan Hartman, Benton, Ky., five bass, 19-11, $5,839
2nd: Marty Sisk, Evansville, Indiana, five bass, 18-1, $2,419
3rd: Brad Kell, Benton, Kentucky, five bass, 18-0, $1,614
4th: Bill Schroeder III, Benton, Kentucky, five bass, 17-1, $1,129
5th: Harold Buchmeier, Gilbertsville, Kentucky, five bass, 16-3, $968
6th: Drew Boggs, Lebanon, Tennessee, five bass, 15-12, $887
7th: Jeff Defew, Benton, Ky., five bass, 15-11, $806
8th: Mike Suddoth, Dickson, Tennessee, five bass, 15-3, $726
9th: Chris Hellebuyck, Waterford, Michigan, five low, 15-2, $1,845 (includes $500 Phoenix MLF contingency bonus)
10th: Ray Barga, Benton, Kentucky, five bass, 14-4, $565
Full results are available at MajorLeagueFishing.com.
Ron Smith of Walton, Ky., had a 5-pound, 1-ounce bigmouth that was the heaviest in the event in the Boater Division and won the $730 Berkley Big Bass Boater of the Day award.
Blake Smith of Tennessee Ridge, Tenn., won the Strike King Co-angler Division and $2,419 on Saturday after catching five bass weighing 13 pounds, 5 ounces.
Strike King's top 10 co-anglers were:
1st: Blake Smith, Tennessee Ridge, Tennessee, five bass, 13-5, $2,419
2nd: Andrew Dunford, Christopher, Illinois, three bass, 11-3, $1,210
3rd: Bill Wasden, Paris, Tennessee, four bass, 11-1, $807
4th: Ethan Wheeler, Mayfield, Kentucky, two bass, 10-1, $930
5th: Peyton Coleman, Paducah, Kentucky, three bass, 10-0, $484
6th: John Dunn, Paducah, Kentucky, three bass, 9-15, $444
7th: Frank Haysley, Louisville, Kentucky, four bass, 9-14, $403
8th: Ed Daniell, West Frankfort, IL, four bass, 8-12, $513
9th: Dean Hesse, Brandenburg, Kentucky, three bass, 8-5, $323
10th: Colin Fogerty, Memphis, Tennessee, three bass, 7-10, $282
Wheeler caught the biggest bass in the Co-angler division, a fish weighing 6 pounds and 4 ounces. The catch earned him the Berkley Big Bass Co-angler award of $365.
The top 45 boaters and co-anglers in the region based on points standings, along with the five winners of each qualifying event, will be entered into the Bass Fishing League Regional Championship October 13-15 on Pickwick Lake in Counce. , Tennessee. Boaters will compete for a prize of $60,000, including a new Phoenix 819 Pro with a 200 horsepower Mercury outboard and $10,000, while fellow anglers will fish for a new Phoenix 819 Pro with a Mercury outboard of 200 horsepower.
The 2022 Phoenix Bass Fishing League presented by TH Marine is a 24-division circuit dedicated to weekend anglers, with 128 tournaments throughout the season, five qualifying events in each division. The top 45 Strike King boaters and co-fishermen in each division, along with the five winners of the qualifying events, will advance to one of six Regional Championships where they compete to finish in the top six, which then qualifies them for one of the oldest championships in all of competitive bass fishing – the Phoenix Bass Fishing League All-American. The 2022 All-American will be held June 2-4 at Lake Hamilton in Hot Springs, Arkansas, and is hosted by the Arkansas Department of Parks and Tourism and Visit Hot Springs.
The top 45 Strike King boaters and co-fishermen as well as tournament winners from each division of the Phoenix Bass Fishing League will also gain priority entry into the MLF Toyota Series, the path to the MLF Tackle Warehouse Pro Circuit and ultimately the MLF Bass Pro Tour.
Proud sponsors of the 2022 MLF Phoenix Bass Fishing League presented by TH Marine include: 4WP, 13 Fishing, Abu Garcia, AFTCO, ARE Truck Caps, B&W Trailer Hitches, Berkley, Black Rifle Coffee, E3, Epic Baits, Favorite Fishing, Gary Yamamoto Baits, General Tire, Lew's, Lowrance, Lucas Oil, Mercury, Mossy Oak, Onyx, Phoenix, Polaris, Power-Pole, Revital Outdoors, Strike King, Tackle Warehouse, TH Marine, Toyota, Wiley X, YETI and Yo-Zuri .
For more details and up-to-date tournament information, visit MajorLeagueFishing.com. For regular Bass Fishing League updates, photos, tournament news and more, follow MLF5's social media at Facebook, instagramand Youtube.
About Major League Fishing
Major League Fishing (MLF) is the world's largest fishing tournament organization, producing more than 250 events a year in some of the world's most prestigious fisheries, while broadcasting in American living rooms on CBS, Discovery Channel, Outdoor Channel, CBS Sports Network, the World Fishing Network and on demand on MyOutdoorTV (MOTV). Based in Tulsa, Oklahoma, with offices in Benton, Kentucky, the MLF list of bass anglers includes the world's top pros and more than 30,000 competitors in all 50 states and 13 countries. In 2019, the MLF expanded its portfolio of catch, weigh-in and immediate release events to include the five biggest most powerful fish format tournament circuits in the sport. Since its founding in 2011, MLF has advanced the sport of competitive fishing through its premier television and live streams, and is dedicated to improving the quality of life for bass through research. , education, the improvement of fishing and the care of fish.